In our initiating lineage, Master training requires the execution of a project that explores a question that arises within ourselves about Reiki. The idea of a Master project was daunting and, frankly, irksome in the light of 2,000 recorded hours of Reiki practice and 12 weekends devoted to auditing and co-teaching classes, also required of our Master training. A myriad of questions arose through the 3 years, and perhaps my biggest dilemma was deciphering which would turn into my project.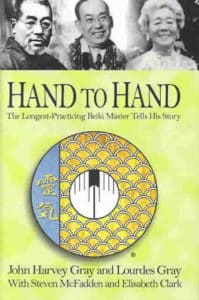 But, in Reiki 1, I was completely enthralled to the Reiki story. In the John Gray lineage, in each of the four parts of the first degree class, an elaborate and extensive version of the Reiki story is told. The story serves an important purpose of connecting the student to the teachers who walked before us, and it sparked in me a deep interest in the notions of spiritual lineage and initiating lineage. So I thought I'd start there.
Of the scores of books my teacher Brian Brunius assigned me to read, John Harvey Gray's Hand to Hand: The Longest Practicing Reiki Master Tells His Story is still one of my favorite, both for its content and the amount of Reiki that I feel from its pages. For a time I thought my project would revolve around where Gray took our practice. The complementary techniques he used are essential in my everyday practice, and yet I know several of these would be foreign to our spiritual and initiating lineage forebears Mikao Usui, Chujiro Hayashi, and Hawayo Takata.
Brian supported this exploration, introducing me to Masters made by John, and it was fascinating to learn how and what he taught in different stages of his Reiki career, and in turn, how his students used his techniques on clients today. We visited Arkansas to meet Suzanne Parnell and spent a week learning her methods at her Stonewind Institute. She even introduced us to a few techniques that John and Beth Gray taught her that didn't make it to his later students. We organized a John Harvey Gray teaching day with Phyllis Furumoto when she came to New York City, and what an honor to hear from her and some of his other Masters about the man who was, at the time of his death in 2011, the longest practicing Reiki Master in the Western World.
But, as my professional practice grew, and as I began to learn to tell the Reiki story for myself and my future students, I found myself thinking deeply about Usui Sensei. How did he practice and teach? And how might it compare to how I was practicing and what I was learning to teach nearly 100 years later, in another language on the other side of the Earth?
During my Master training, I started a monthly Women's Circle exploring Chakras and gained a deeper understanding of a field with which Gray was so deeply in tune. I'd thought about starting a Reiki circle in the fashion of the famed Usui Reiki Ryoho Gakkai – the secretive society started by students of Usui. Brian lent me a DVD of an interview with Masters made by Hawayo Takata, and the Gakkai circle format was outlined by Fran Brown. Maybe a Gakkai-style circle would bring me closer to the practice of our root teacher?
There is so little publicly documented about Usui Sensei and the best references I could find were from articles written by Dr. Justin Stein posted on justinstein.academia.edu. One of these pieces mentioned a student of Usui named Kaiji Tomita. In 1933, Tomita penned a book called Reiki To Jinjyutsu – Tomita Ryu Teate Ryoho [Reiki and the Benevolent Art of Healing: The Tomita Method of Hands-On Healing].
A whole book written by a student of Usui? What was in it? Would I recognize the practices and techniques? And, for all the books I pored over about Reiki – 95% of which I'd never recommend to my students – why wasn't I assigned this one, Brian?
I went on a mission of finding it – starting with Kinokuniya bookstore in Midtown Manhattan and asking a friend to read Japanese used book websites for me. I found that it was reprinted in 1999 and 2007, but currently out of print, copies were very expensive, and only in an archaic, pre-war Japanese, which was why it didn't make it to my reading list.
I introduced myself via email to Dr. Stein, then living in Kyoto, Japan in a postdoctoral program at Bukkyo University, and asked if he knew of any translations or anyone working on translation. Sadly, he did not.
As I searched for clues to its contents online, I found an e-book published containing a chapter from Tomita's book. The chapter was excerpted from a 1934 anthology entitled Shikai Kenni Jyugo Taika Reiryojyutsu Seiten [15 Most Popular Energy Healing Methods] and it was updated to modern Japanese and published on Amazon kindle.
Brian and I enlisted the help of two Japanese students who happened to be in my Reiki 2 training. Chihiro Katayama Terasaki obtained a used copy of Tomita's original book from Japan on our behalf, and Leika Akiyama translated the contemporary Japanese e-book chapter of Shikai Kenni Jyugo Taika Reiryojyutsu Seiten.
The chapter outlined a meditative 5-day Reiki self-attunement method to help students develop their potential to channel the energy for themselves and others. As I sat in this practice recommended by Tomita, I felt strongly its potential to cultivate Reiki. Brian and I spent hours on the phone discussing and debating the technique, the history and purpose of different practices within it, deliberating how it could be applied today and how we felt our Reiki changing from the process.
At one point, we spent weeks solely deliberating gyosei – the Waka poetry of the Meiji Emperor so revered by Usui Sensei. Recitation of these verses is a part of Tomita's method, so we carefully selected poems, sat respectively in contemplation, and compared our experiences to various translations available of these stanzas. In all, months of work, deliberation, and practice on this 25-page chapbook!
Then, I printed perhaps 50 copies in chapbook format, and shared them with students of NYC Reiki Center, asking them to perform the meditative practice and let us know what they felt change in their connections to Reiki. The results were dramatic! We found patterns in their reported experiences, including vibrating palms, pressure on their crowns, intense waves of heat or cold, or feelings of immense joy in stillness.
Brian and I felt convinced that this excerpt from Tomita's larger book would be helpful to Reiki students everywhere, so we've asked Dr. Stein to reconcile our translation with the original Japanese of the 1934 anthology. We hope to soon make Dr. Stein's reviewed translation of this chapter from the original Shikai Kenni Jyugo Taika Reiryojyutsu Seiten available to students of Reiki everywhere. It will be distributed by Reiki Centers of America as a fundraiser for its ongoing work in discovering and preserving Reiki history and teachings.
I'm so grateful for our ongoing collaboration with Dr. Stein who also guided our students and us in a Reiki History Tour of Japan in May of 2019.  Together, we visited Usui's birthplace in Taniai Village, we climbed Mount Kurama, the site of his 21-day meditation on which led to our practice today, and his gravesite in Tokyo, among other places. I was thrilled to receive my Master initiation at the Okunoin Mao-den Shrine, considered by many to be the holiest spot on the Mountain on May 10, 2019.
But just as the end of Master training is only another beginning, my Master project has launched yet another exploration. For me, Tomita's book represents an extremely rare opportunity for modern-day, Western students and practitioners to learn directly from an early Reiki student of Usui's methods.
Dr. Stein has helped us find a translator for the full-length Tomita book, Reiki To Jinjyutsu – Tomita Ryu Teate Ryoho, which is four long chapters with many photographs detailing techniques and hand positions. The book comprises about 280 pages, has never before been translated from Japanese to any other language, and we're thrilled that Dylan Luers Toda, an academic translator specializing in Japanese religion, history, and philosophy has agreed to take this project on!
Reiki Centers of America, the non-profit organization Brian and I relaunched to bring Phyllis Furumoto's last teaching to New York City, will take on the fundraising for Toda's translation, as well as the cost of its subsequent academic review. As part of Reiki Centers of America's  mission to share authentic instructions, techniques, and materials on Reiki, we hope one day to be able to publish and disseminate this work for all students of Reiki.
I'm grateful for the thorough and rigorous standards John Harvey Gray established for his lineage, and to my Reiki Master Brian Brunius for holding me to this tradition. It created a pathway for me to explore so many questions and in such depth during my Master training.
When I started my Master training, I never could have imagined that translating a single chapter from an old anthology would turn into such a major undertaking of translating and publishing an entire volume of such historical importance to all practitioners of Reiki. I look forward to continuing my Reiki journey with fresh perspectives, new revelations and richer understanding ahead.