The NYC Reiki Center was founded in 2007 with the following goals:
Global Community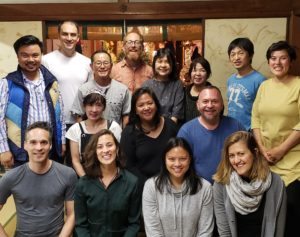 Help students find their place in the global Reiki community. We each have special gifts cogent to our missions in the world. Developing those gifts and using them in effective ways brings each us closer to realizing our full potential. Connecting with a Reiki community and sharing in the process of growth, supports us on a core level.
Personal Empowerment
Receiving the Reiki initiations changes us by increasing the flow of energy into and around the body. By activating the so-called "light potential" of each person through Reiki initiations, we not only make it possible for them to share Reiki with others, but we enrich them with a flow of energy that will help them overcome their greatest obstacles and fully inhabit their lives and personal missions.
Increase Consciousness
All beings are One. By expanding our consciousness, we help all sentient beings. By helping another to expand her consciousness, we empower ourselves and all other beings. Through obstacles and anxieties, we use the support and community of the NYC Reiki Center to increase the consciousness of our members.
Service to Humanity
The spiritual teacher Sathya Sai Baba often exhorted us, "Love all, Serve all." This instruction helps us keep our lives and daily activities focused on the singular thought: "What do I have to give to each person or situation I encounter?" At NYC Reiki Center, thinking of others first takes us out of our ego and puts Reiki in charge of our lives and daily activities. We offer ourselves each day in the service of Reiki, and ask that we may be shown how to make a difference in the world.