Setting Goals
Each session begins with a discussion, when together we'll assess your current state of body and mind and set goals for the day's treatment. Then, with each appointment, we assess how effective our work has been and make adjustments based on your needs and desires.
Proven Results of Reiki
Stress reduction and less frequent panic attacks
Decrease in anxiety, tension, and muscle stress
Relief from depression, loneliness, and sadness
Reduction of pain and discomfort
Rapid healing following surgery or injuries
Improved sleep for several nights after treatment
Diminished side effects of chemo and radiation
The Treatment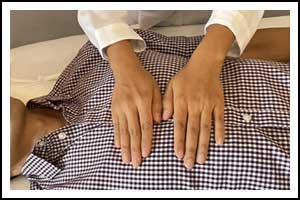 Moving to a padded treatment table as soothing music plays softly, you'll lie comfortably while your practitioner delivers the Reiki treatment. Transferring Universal Life Force through their hands, your practitioner peacefully and quietly increases your vital energy, therefore providing a boost to the body, and assisting it in improving the quality of your chakras, physical health, emotions, and patterns of thinking.
The Effects
Afterwards, clients report an unusually peaceful and calm state of mind. For instance, many say they feel as if they've just returned from a long vacation – expanding their inner awareness, setting them on a path of transformation and growth. Those who come in with physical pain or discomfort leave feeling significant relief, because worry, fear, and anxiety melt away during the Reiki treatment.
In most sessions, we focus on five goals that help attain the balance needed for total well-being.
Good health, improving each day
Courage in the face of change
Freedom from old patterns and beliefs
Creativity in designing a new life path
Spiritual growth and inquiry
Receiving Reiki, I felt like I was floating on still water, without a thought on my mind. I even fell asleep for an hour. The week after our first session was the first time I've slept peacefully since my daughter died last year."
~Amy M., Queens, NY