There is a certain treatment that comes from Takata sensei herself that works so well it would draw huge crowds if only more people knew about it. Hawayo Takata was a Reiki Master who worked with clients daily for more than forty years. She learned to give Reiki treatments before World War II in the Tokyo clinic of her Teacher, Dr. Chujiro Hayashi. She herself was cured of four very serious ailments under his care after receiving a treatment every day for more than five weeks.
Later in life, she told the story of her own healing, and taught: If you really want to help someone with a specific problem, treat him or her every day for four days. When you commit to receiving Reiki on four consecutive days, the effect is deeper and more powerful than that of four individual treatments spread out over time.
In my experience, she was quite correct; when people come for Reiki wishing to confront a particular problem, help always seems to arrive, even though it can come in forms or ways that were never expected.
Giovanni's Feet
Giovanni was dragged to his Four-Day Reiki Intensive by his best friend. Giovanni is over 70 years young. He complained loudly of pains and burning sensations in the soles of his feet. His doctor had told him that it was caused by his type II diabetes. That was two years ago, and since then, Giovanni had neglected both his doctor and his diabetes.
He came for two hours of Reiki every day for four days. We did not talk very much during the actual treatments, but each day, he reported that he had less and less "pain and fire" in his feet. By the end of the four days, he said that the pain had come down from 100% to about 20%. What he did not report is that he had started to change his eating habits, to take his medication regularly and as prescribed, and that he had made an appointment to see an endocrinologist, all of which had come out of the blue and was quite out of character. These details were relayed to me by Giovanni's best friend who was completely taken aback by the change he saw in Giovanni's behavior.
The Four-Day Reiki Intensive has the strength to act as a kind of shock treatment to help you turn the corner in whatever issue you are dealing with, but it has also proven itself to be incredibly gentle and caring in nature, too. No matter how painful the situation, I have never known anyone who has undergone four days of Reiki to have been overwhelmed or harmed by their experience.
Martha's Grief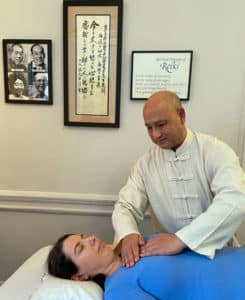 Martha came for the Intensive when her husband died of cancer. She was devastated. The merest thought of her husband was unbearable for her. She dreaded the thought of lying still on the table with no distractions from her pain. However, she described how, at some point on the third day, she finally felt very relaxed, and that the feeling of relaxation subtly melted into the sensation of being in her husband's presence. She started talking with him. She could see him. She shared with him her pain, her loss, her loneliness, and he spoke to her, too.
When she alighted from the table, she seemed more present, more whole, stronger. She recounted all that she had seen, and though talking about her husband, she did not cry at all. In her voice, I could hear that her husband was gone. The next day, which was the fourth, she said that she had had her first full night's sleep since before her husband had died, and that she had woken up hungry for the first time in ages. She spoke of her mourning, of course, but she also spoke about work, and her plans to meet up with friends that weekend. She explained, "My husband died more than four months ago, and I have been living every day as if it was the first. Now, I feel I'm back in today. I know it's been four months since he's been gone. I still hate it, but I am where I should be."
Martha continued to have a two-hour Reiki treatment once a week for a few weeks afterwards, at which point she decided she would go back to work. She still comes to have Reiki occasionally whenever she feels the need.
Why receiving Reiki on four consecutive days should make a difference, I do not know, but when we book a Four-Day Reiki Intensive treatment, it takes on a whole life of its own. I have heard several people describe how, on making the appointments, a strange calm descended on them and stayed with them until the end of the four days. Others have reported how their calendars suddenly became free, or that babysitters came forth from unexpected quarters so that making it to the treatments was no longer a challenge.
My feeling is that if we do our best to come for treatments every day for four days, our efforts are rewarded in that we become aware of the deeper causes of our problems and make the changes we really need to make.
(Note: The stories told here are true, but client's names have been changed to protect their confidentiality.)